Resume
---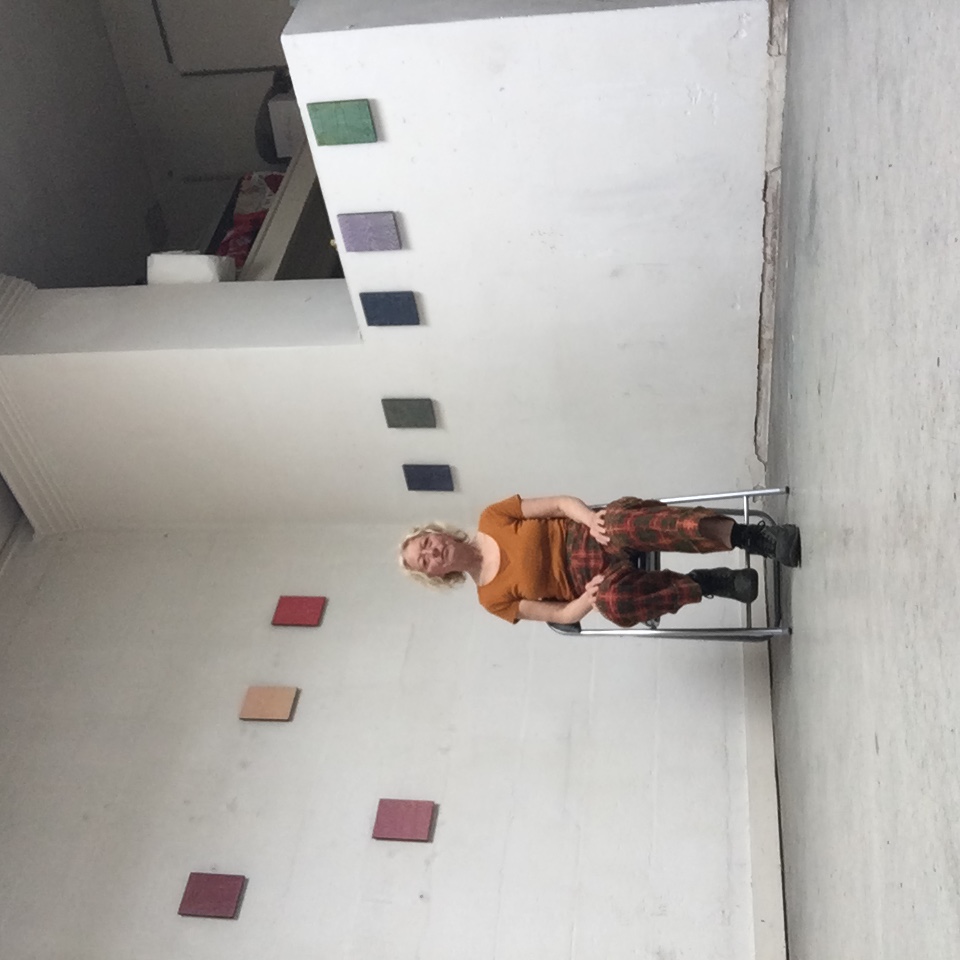 Born in Amsterdam and often relocated, also abroad, it's no surprise that the ever-changing is part of my visual work.
Trained as a visual artist working with all kinds of materials including textile has made me sensitive to surfaces. The drawings and the painted drawings are made by putting layer upon layer.
In my drawings I explore sight, the ever-changing, time and complementary concepts like straightness and fluidity, wholeness and the partial.
I'm fascinated by the line and how repetition creates a surface. When I work with color I love to play with the degree of saturation and tone.
---
Selma Dronkers, 17-04-1957, Amsterdam
Lived and worked in Hungary (1990-1993)
Currently living in Nijmegen, The Netherlands
Work in private collections
Work in the collection municipality Nijmegen
Work in the collection of the artist association of Hungary
Education:
1979-1984 Tehatex Nijmegen
1984-1986 Artacademy Arnhem
---
Member Artist association Arti et Amicitiae
Member Dutch association of Draftsmen nktv
Chairwoman of the Balloting committee Dutch association of Draftsmen NKvT
---
Exhibitions:
2022
"Wintersalon",new work at Art et Amicitiae
"Light of Veere 2.0", Museum Veere "The Scottisch Houses" (NKvT)
"Online presentation and sales exhibition at "Inart Kunstcollectief"
"Into the WeSpace", Artlovers Space, Brummen (Aletta Bos Studio)
Online: Teken blog Wim Kranendonk (only in Dutch)
2021
"Biennale", Pulchri, The Hague
"Kunstlijn", Haarlem
"Art The Hague" with Blendprojects, Fokker Terminal, The Hague
"Airy", Gallery North, Groningen
"Covimetry", Ely Center of Contemporary Art, New Haven, USA
"Sales during Corona", Pictura, Groningen
"Wintersalon", Arti et Amicitiae, Amsterdam
"Artist Support Pledge", De Balie, Amsterdam
2020
"De Tekengalerij", Wim Kranendonk Arthistorian, online
"Ladekastproject" , Phoebus Gallery, Rotterdam
"Drawing", Amstel Church, Amsterdam
2019
"New work", Arti et Amicitiae, Amsterdam
"Summerkabinet", Tekenkabinet gallery, Amsterdam
" Winterkabinet", Tekenkabinet gallery, Amsterdam
"New Members", Arti et Amicitiae, Amsterdam
2018
"Free Visual Arts", Museum Valkhof, Nijmegen
"99+1 Revisited", DNG gallery, Beuningen
2017
"Artist in Residence Exhibition", Maas, Nijmegen
"4 Artists", LBS4 Gallery, Amsterdam
"Art and Religion", Museum Katharinenhof, Kranenburg, Germany
2016
"Realism", Passenger Terminal, Amsterdam
2015:
"180 view", Telpost, Millingen
"Only Drawing", Kunstwest Gallery, Amsterdam
---
Earlier:
2014/2015
Groupexhibition Cultuurhuis van de Stad Nijmegen
2014 Realism Artfair Amsterdam
Groupexhibition Stevenskerk and Honig factory Nijmegen
2013
Realism Art Fair Amsterdam
Tussen-Ruimte solo: Cultuurhuis van de Stadt Nijmegen
2012 Groepsexpo Stevenskerk Nijmegen
2011 Groepsexpo galerie de Stoker Amsterdam
2009 Made in Arnhem; 'Arnheminvites'
2007 'Hebban Alla Vogala' groupexhibition curated by Marlies van Erp
2006 Etalageproject, solo, Het groeit, Lange Hezelstraat, Nijmegen
Grouppresentation in The White Church, Ubbergen
2005
Passanten/Voorbijgangers, Installation and performance VillaLila
50 koppen 50 kunstenaars, Villa Lila2004 Global Village Festival, VillaLila
2000-2001 De Langste Nacht, Installation in Het Blauwe Venster
Images of Diversity / Be Equal Be Different, VillaLila
150 artists/ small works, Het Blauwe Venster
Before 2000: Co Founder Kunstwerk Kunstuitleen Nijmegen
Organisation and participant Atelierverschijningen Nijmegen